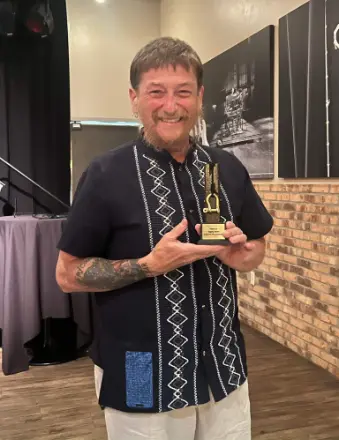 Noel "Rick" Richard Edward Raymond Eric Andrew Moore Galindo
Dec 24, 1966 – Oct 28, 2023
Rick "Noel Richard Edward Raymond Eric Andrew" Moore Galindo, 56, of Sobieski, WI passed away on October 28, 2023. Born on December 24, 1966, in Sacramento, CA, Rick was a beloved partner, son, brother, mentor and friend. Even though a failing heart took him away from this world, his loving heart left a beacon of light for all in the community.
Rick was known for his kind and generous nature, as well as his creativity and tenacity. He was a good friend and always up for an adventure. Rick had a curious mind and was constantly challenging himself to learn and grow. He was an active individual who enjoyed cooking, traveling, motorcycling, skiing, gardening, playing PokemonGO and fabricating projects and developing his property in Wisconsin.
In his career, Rick had diverse experiences. He worked in retail management in the men's clothing and ski industry. He excelled as a theatrical technician for over 25 years: Carpenter, fly rail, advance carpenter, and rigger for IATSE Local 470 of Northeastern WI. Rick was involved in various national tours, including "Tuesdays with Morrie", "Dirty Rotten Scoundrels", and "Legally Blonde." He also worked as Lead Installer/rigger for Peter Albrecht in Milwaukee, WI. Rick's expertise led him to become a trainer at IATSE Local 470, and he served as the Committee Chair for the Rigging Committee and was active on 3 other committees as well as serving as Vice President/Education Chair during his life.
Rick's educational journey began at Roosevelt School for kindergarten, St. Mary of the Angels (grades. 1-6), Washington Junior High and continued at Green Bay East High School. He furthered his education at the University of Wisconsin – Green Bay graduating with a B.S. in Business Administration.
Rick will be deeply missed by his life partner, Casey Guilfoyle, his mother Elizabeth Galindo, his sisters Joanna Revelo & Shelley Moore, his brothers Jose E. Revelo & Christopher Moore, his father Wm. Graff Moore, Jr. his cousins, nieces, and nephews. He was preceded in death by his grandparents.
In honor of Rick's memory, contributions may be made to Wisconsin Public Radio and ABATE of Wisconsin.
Please join us in celebrating Rick's remarkable life and the impact he had on those around him. He will forever be remembered as a kind-hearted, talented, and adventurous soul.
The memorial will be held Wednesday November 29, 2023, at the Weidner Center, 2420 Nicolet Drive, Green Bay WI, starting at 4:30pm, at 5:00pm a short program, then pot luck snacks, please bring something to share.