–Bob's obituary can be found Here– –Tim's obituary can be found Here–
Robert was born September 12, 1956 in Ogden, Utah the 5th of 6 children to Lee and Dorothy Chase. He was raised in and was a proud member of the Catholic Church. He was well versed in church theology and spent time at the Monastery in Ogden Valley. After graduating from Ogden High School he continued his education at Weber State College and Utah State University.
Robert was a big supporter of the arts, specifically the theater where he worked many years watching this love come to life. He supported many different projects through the years. Leaving a legacy of love for the theater. Through his work in the theater he was afforded the opportunity to travel the world. He made many lasting relationships through this
association, making them family. Education and reading were very important to him, so much so he told family If they did not read their children he would come back and hunt them.
Robert bestowed a nickname to everyone who mattered to him. Robert was an avid cribbage player, who loved to play and nip Sambvca. Know as "Grandpa Chase" to a host of children, you could always tell when he was entertaining the kids by the sound of his infectious laughter. Who can forget Robert's epic 4th of July parties, his invites to New Year's Eve Backstage reviews, and nights out for killer dinners. He was always up for good food, a good drink and good company; he will be missed.
He was preceded in death by both of his parents, 1 sister and 3 nephews. Robert leaves behind Damon,"his assumed son",(Natalie, what did he do to deserve you?) Nicholson and his granddaughter Justine (Goomba). He also leaves behind 1 brother, 3 sisters, 7 nieces, 7 nephews, 1 sister in-law and 4 brother in-laws.
The family would like to give a special Thanks to his friends he has worked with especially those at Oasis and Local 99. A Celebration honoring his life will be held September 9th, 2022 from 5 to 8 pm up Millcreek Canyon.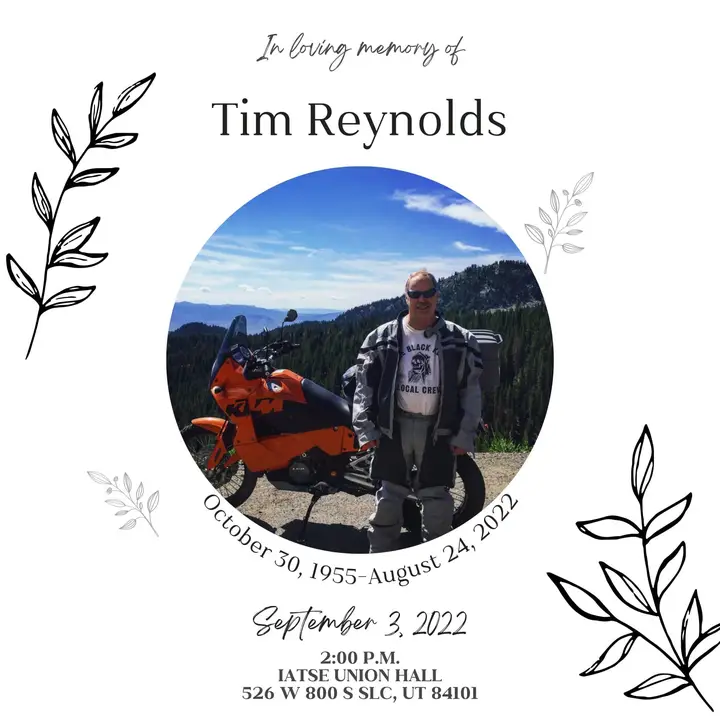 Tim was born to Sherman and Ruth Lewis Reynolds in Salt Lake City. After graduating from Highland High School, he fell in love with exploring the mountains and deserts of Utah. He was an avid river runner, four-wheeler, and dirt biker throughout his life.
After following in his mother's footsteps as a stock broker with Main Street Securities, he found his true calling as a Journeyman Stagehand with IATSE Local 99 in 1994, serving as the organization's President for many years. As Set Electrician and Grip he contributed to the successful production of many concerts, theater productions, and films including; Independence Day, High School Musical, World's Fastest Indian, the 2002 Winter Olympics, and Yellowstone.
Tim is survived by his sister Shirley Reynolds and beloved children: step-son Seth and Sierra Neily, grandsons Skyler, Silas, and Simon; Kistina and Sean Pressler, grandson Ames; Anthony and Rachel Reynolds; Timothy Reynolds Jr.; and Atticus Reynolds.
A service will be held at the Local 99 meeting hall at 2:00 pm, September 3, followed by a pot-luck social.