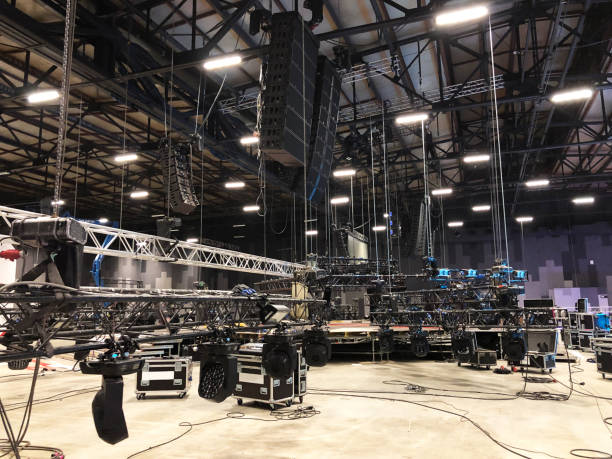 Local 99 presents a two-day Up Rigging Training on Thursday and Friday, April 28th & 29th, 2022. This training is for newcomers who want to learn Up Rigging and for current Riggers who are ETCP certified to become trainers. This is a 2 day all day training and you must be able to attend both days of the training.
COURSE DESCRIPTION:
What is this course about?
The IATSE Rigging Proficiency Program is a two-day, introductory rigging course designed to prepare workers to fill the present need for entertainment riggers in live entertainment. The course will include a lecture, demonstrations, hypothetical situations, and hands-on activities. This course will provide information in arena rigging, fall protection theory and protocols, general workplace safety practices, and professionalism. After completing this course, workers will be able to install and strike a concert or other live productions in a U.S. event venue.
What will course participants learn in this course?
This course will provide participants with a comprehensive introduction to rigging principles and best practices used in modern entertainment applications. Rigging systems and subsystems, the materials used, and the capacities of the systems are all covered. Participants will also gain an understanding of general safety practices, fall protection theories and protocols, and professionalism. The hands-on portion will require the students to tie knots and assemble rigging and fall protection systems using the tools of the trade.
How does this course relate to crafts represented by the local in the entertainment and exhibition industries?
Entertainment rigging is an essential part of live entertainment. Locals that represent live entertainment technicians and/or Locals who are having trouble filling rigging calls will benefit from this course. Participants who complete this training will learn the necessary skills to start taking rigging calls.
How will this course develop or improve participants' craft safety or craft skills?
This course will cover craft skills related to entertainment rigging such as basic rigging principles, best practices, and materials. General craft safety topics like fall protection, hazard awareness, and The Hierarchy of Controls will also be addressed.
TOPIC OUTLINE:
General Safety
Fall Protection Authorized Person Training
Professionalism
Rigging Systems
This training will be conducted by Kent H. Jorgensen, Chairman of the IATSE Safety Committee, who has been involved with safety, training, and standards writing for 25 years as a representative of IATSE Local 80. Kent is currently the Labor Chair for the Motion Picture/Television Industry Wide Labor-Management Safety Committee and is a member of the Entertainment Technician Certification Program (ETCP) Council. He is an ETCP Recognized Trainer and an OSHA Outreach Instructor who regularly teaches OSHA 10 Hour Outreach, Entertainment Rigging, Fall Arrest for Entertainment Workers, and High Angle Rescue classes.
Coffee and snacks will be provided but lunch is on your own. Space is limited so register today by filling out the form below!
WHAT: Rigging Class
DATE: Thursday & Friday, April 28th & 29th, 2022
TIME: 9:00 AM – 5:00 PM
WHERE: Thursday, April 28th at Local 99 Union Hall, 526 W 800 S in Salt Lake City
Friday, April 29th at the Maverik Center, 3200 S Decker Drive in West Valley City